Tendulkar gets mixed response over his RS member acceptance
New Delhi, Fri, 27 Apr 2012
NI Wire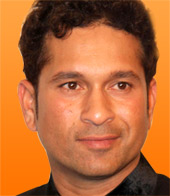 Indian Cricket legend, Sachin Tendulkar who on Thursday accepted the proposal of being a Rajya Sabha (the upper house of Parliament) member has received mixed response over it.
Several eminent personalities from various section of societies have appreciated on this move of Tendulkar while several have said that he is an apolitical persons and does not suit to politics. Moreover, he is at present active in all formats of cricket, so he may not concentrate to his political job.
Former soccer star Baichung Bhutia said, "I think it's completely a personal decision, if Sachin (Tendulkar) thinks he should join politics and he can make a difference, its most welcome. If he doesn't want to, its completely a personal decision, which he has to think and for a sports person, I think, people like Sachin coming in is always good, because its going to benefit sports, and its going to benefit especially sports, but I think Sachin is one person who everybody looks upto, and I am sure he will do a great job. We need good politicians, good, honest people in the Parliament."
Former cricket captain Dilip Vengsarkar remained sceptical about Tendulkar being able to devote his time for parliamentary proceedings when he is playing every format of the game.
"I don't know whether he has time to do that, because I think he is playing international cricket, he is playing in all formats of the game, whether he will have time to do that? Whether he will have time to attend the Parliament? I really cannot say anything on this," said Vengsarkar.
Tendulkar, who has brought many laurels to the nation through his remarkable achievements in the game of cricket, met Congress President Sonia Gandhi along with his wife Anjali at the former's residence on Tuesday.
Tendulkar is the leading run-scorer and century maker in Test and one-day international cricket. He is the first player to score a double century in ODI cricket.
In 2002, just 12 years into his career, Wisden ranked Tendulkar the second greatest Test batsman of all time, behind Donald Bradman, and the second greatest one-day-international (ODI) batsman of all time, behind Viv Richards. He was also a part of the 2011 Cricket World Cup winning Indian team.
--With IANS Inputs--