Introduction to Organic Farming
New Delhi, Thu, 26 Apr 2012
NI Wire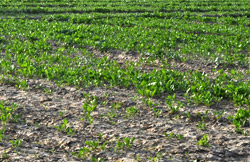 With the introduction of inorganic fertilizers, herbicides and pesticides during the industrial revolution to meet the increasing demand of food in the early and mid 90s, use of synthetic fertilizers became quite common across the world leading to the gradual degradation of soil fertility.
Though, organic farming is not a new concept of agricultural and has been followed in India since the prehistoric times and is one of the most effective methods of sustainable agriculture of all times. Use of several approaches including inter-cropping, mulching, crop rotation, integration of crops and live stocks etc. in organic farming makes it even better and useful for cultivation of various crops without harming the fertility of the soil.
Organic farming is basically one of the farming systems practiced with an objective to cultivating and raising various crops without interrupting the composition of soil and thus keeps the soil alive. The process mainly uses the organic wastes such as crop, animal and farm wastes, aquatic wastes and other biological manures and microbes called the biofertilizers which are very friendly to the soil and enhance the fertility of the soil instead of degrading them as the inorganic fertilizers do. The methods and manures used in organic farming are totally eco friendly and environmental friendly in nature and hence highly recommended for present time as a lot of damage has already been done to the soil across the world due to excessive use of inorganic fertilizers.
Due to excessive use of synthetic fertilizers the area of fertile land is reducing day by day which is matter of prime concern and to overcome this problem it is very essential to promote organic farming across the globe to retain the fertility of the soil.
Earlier, the concept of organic farming had a very limited and traditional approach but the modern concept of organic farming has come up with expanding horizons and many new concepts. The modern approach of organic farming tends to cover all the related aspects of agriculture that includes soil management, water management, crop production, plant protection and harvesting techniques. This is the reason organic farming is gaining its popularity across the globe very fast.
Thus, it is very necessary to adopt the method of organic farming in a large scale to maintain the ecological balance and diversity which is very essential. The land for production is limited and need to be conserved in order to utilize it for a longer period of time. And if the use of inorganic fertilizers will not be checked the amount of fertile land will reduce in a significant rate that can lead to a serious problem of shortage of food for all.
Organic farming has come up with a new hope to sustain agriculture in an eco friendly manner which also provides us with good quality of food without any harmful chemical constituents in it.