Organic farming
New Delhi, Thu, 26 Apr 2012
NI Wire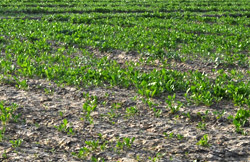 According to the definition of International Federation of Organic Agriculture Movements "Organic agriculture is a production system that sustains the health of soils, ecosystems and people. It relies on ecological processes, biodiversity and cycles adapted to local conditions, rather than the use of inputs with adverse effects. Organic agriculture combines tradition, innovation and science to benefit the shared environment and promote fair relationships and a good quality of life for all involved."
Organic farming is one of the most successful and effective approaches of sustainable agriculture that restricts the use of synthetic fertilizers, chemicals, fungicides and pesticides completely and uses the method of crop rotation and green manure to promote the cultivation. In addition to that, organic farming also helps to retain and enhance the soil fertility without tempering the chemical constitution of the soil and reduces soil erosion too.
Organic farming has proved to be the best answer to the degrading fertility of the soil across the world due to practice of modern agricultural methods that involves the excessive use of inorganic fertilizers and pesticides. Based on the norms and standards set by the International Federation of Organic Agriculture Movements, the governing body for the organic farming across the world created in 1970, many countries are promoting the practice of organic farming.
Features of Organic Farming
Organic farming gives due emphasis on the protection of environment and thus helps to sustain the ecology of Earth by promoting soil conservation. Organic farming involves the practice crop rotation that helps to enrich the soil with natural mineral resources.
In case of organic farming the cultivation of genetically modified (GM) crops is strictly prohibited.
The crop nutrients required for the nourishment of crops are provided by using insoluble nutrient sources through soil microorganisms that increase nitrogen levels in the soil. For example, alternating legumes with the main crop would increase nitrogen levels in the soil.
In organic farming, the use of inorganic fertilizers, fungicides and pesticides are strictly prohibited to combat pest and parasites, rather natural and organic substances are used to check the infestation of pests and pathogens infecting animals and plants.
Organic gardening is also a part of organic farming that includes the gardening of vegetables and flowers with the use of composite manures instead of inorganic fertilizers.
Thus, organic farming has evolved to be a great relief in case of eco friendly farming as a sustainable agriculture that can be practiced in order to cultivate more healthy as well as nutritious food.