Govt. recommends Sachin's name for RS members; Tendulkar's remarks yet to come
New Delhi, Thu, 26 Apr 2012
NI Wire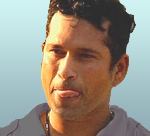 The Prime Minister Manmohan Singh today reportedly has written a letter to President of India Pratibha Devi Singh Patil, recommending Indian Cricket God 'Sachin Tendulkar' for reserving his seat in Rajya Sabha, the upper house of the Parliament, media reports say.
According to reports, PM after getting the nod of Rajya Sabha (RS) members, has recommended the name of Sachin Tendulkar and two other famous personalities for appointing them as members of RS to President.
According to Indian Constitution, President of India can appoint 1/16th out of total seats in Rajya Sabha belongings to different fields to raise voices of their relevant fields in order to improve those.
However, Sachin has made no remarks in this regard.
Sachin, who is seriously involved in his cricket carrier, does not seems to accept this offer, media reports on the basis of his close aide comments said.
Sachin, who is in the capital for playing his match from Mumbai Indians IPL team against host Delhi Daredevils, Tuesday met to UPA President Sonia Gandhi at her official residence at 10, Janpath road.
The match between Mumbai Indians and Delhi Daredevils will be played on April 27, 2012 at 8 p.m..
Sachin was with his wife Anjali. The couple communicated with Sonia for half-an-hour, media sources said.
--With Agencies Inputs--