Gilani convicted for contempt of court, spends 30 seconds in jail
Islamabad, Thu, 26 Apr 2012
NI Wire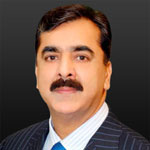 Pakistan's Supreme Court Thursday morning convicted Pak Prime Minister Yousuf Raza Gilani for contempt of court for refusing to reopen cases of money laundering against President Zardari and sentenced him to a symbolic "till the rising of the court", sparing him a jail term.
Sentencing the verdict, a bench of seven judges headed by Justice Nasir-ul-Mulk said, 'Gilani's sentence would last "till the rising of the court" or till the completion of the hearing.'
The proceedings went on just 10 minutes and judges left the court immediately after announcing the verdict, effectively ending 56-year-old Gilani's sentence.
Hearing the court's judgement, Gillani smiled and after emerging from the court, he told media, "We had sought justice. The decision was not appropriate".
The maximum punishment for contempt of court is six-month jail.
Media reports are also stating that a petition will be filed in the Supreme Court for a reviewing this verdict, as Gillani was convicted for contempt of court.
Information and Broadcasting Minister Firdous Ashiq Awan said that the petition would be filed in the apex court for a review of the verdict, reported Geo News.
She added that the course of action would be decided once the detailed verdict is received.
After the ruling, Awan said the verdict will hurt democracy in Pakistan.
"The country cannot afford any adventurism. PPP (Pakistan Peoples Party) has always been victimised," she was quoted as saying.
--With IANS Inputs--