Carbon Trading: An economic approach against pollution
New Delhi, Thu, 26 Apr 2012
NI Wire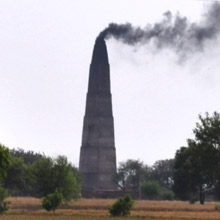 Carbon emissions into the earth's atmosphere have resulted in drastic climatic changes over the years. Excessive emission of carbon to the environment is one of the major causes of Global warming, Air pollution and other major Climatic changes.
Since the industrial revolution, due to extraction of fossil fuels from deep within the earth and exploiting it for energy, it has resulted in an increased concentration of carbon
dioxide in the atmosphere, which is very harmful for us as well as for our future generation.
Carbon trading is a new concept of trading of harmful gaseous emissions especially carbon dioxide. Carbon trading is strategy for minimizing the emission of carbon through a Cap-and-Trade system. Therefore, Carbon dioxide is currently responsible for the major part of emissions trading. Carbon trading is one of the ways countries can fulfill the criteria of the Kyoto Protocol to reduce carbon emissions and hence reduce global warming.
Under this cap and trade system, a central authority i.e. Government of a country, sets a limit or cap on the amount of a pollutant that can be emitted by a company or any organization. An international authority can make the laws also. Companies are not allowed to emit extra amount of carbon to the environment, than the limit.
When it was realized that the major culprits of excessive emission of carbon are the heavily industrialized nations i.e. the developed nations, then an international treaty called the Kyoto protocol was introduced in order to lessen the excessive emission of greenhouse gases. The Kyoto Protocol came into existence in 1997 and became functional in 2005. Kyoto protocol forces most of the developed nations to follow cap and trade system for the six major gases. As everybody is polluting so, under this protocol, the whole world has been divided into two parts i.e. the developed countries (countries having good infrastructure and financial backup) and the developing countries. Since, the developed countries are responsible for more emission, so, all the developed countries will have to cut down their emissions by some percentage or else they will have to pay heavy fines.
The Kyoto Protocol is a global Cap-and-Trade program to reduce the anthropogenic (man-made) production of greenhouse gases that are responsible for climate change. Cap-and-Trade systems includes some regulatory programs and the programs are:-
Cap (limit) harmful emissions such as mercury, sulphur and carbon by limiting them through a permitting system.
Distribute the emissions right to different stakeholders (these rights are called allowances, permits or credits).
The stakeholders can buy and sell the rights or the credits of the permitted emissions after initial distribution of credits by any authority. The goal of the cap is to prevent further increases in net emissions of greenhouse gases, especially carbon. Therefore, a given polluter may find it most economical and beneficial to reduce emissions below their cap or limit and sell the remaining 'carbon credits' to a polluter who are polluting more than their cap limit, as the total amount of credits or allowances for a company cannot exceed the cap, limiting the total emissions of the company to that level. If there is a Company that need to increase their emission allowance should buy extra credits from those who pollute less.
While the United States has not signed onto the Kyoto Protocol, many individuals as well as companies are alternatively making agreements to reduce emissions and have started purchasing credits from others who have reduced emissions and still have the credits left with them. Now a day, apart from the companies, some environmental organizations have also started buying carbon credits from an authority and are selling it to the needy companies. Chicago Climate Exchange and Regional Greenhouse Gas Initiative (RGGI), are such organizations which are selling carbon credits to many companies and organizations.
Carbon emissions trading have been continuously increasing in recent years. Recently, carbon trading is seen as futures market in the United States. Presently, in Europe a ton of carbon is selling for approximately $30/ton. In the US, it is selling for approximately $2/ton. And keeping in mind the present scenario of rate of expanding pollution, it is expected that in near future the cost of carbon will increase rapidly.
The carbon-trading scene is rapidly changing, and there are many problems about how to quantify and verify tradable units of carbon for proper running of carbon trading. Although, some practices have been recognized as the way to gain the tradable units. Tradable units might be achieved through the following practices:
Capture methane from a waste lagoon/anaerobic digester and destroy it with a flare, for heat, or for generating electricity.
Practice scientific methods to sequester carbon on large acreage.
Reduce nitrogen application to reduce nitrous oxide emissions and energy.
Practice Timber Stand Improvement in woodlands to sequester carbon in trees.
Supply an energy processor with wood chips, grass for pellets, oilseeds for biodiesel, etc. to displace fossil fuels i.e. by using biodegradable source of energy.
Make significant improvements in efficiency, thus reducing energy use.
Use wind, solar, or geothermal energy sources to displace fossil fuel use.
Thus, the carbon trading is one of the booming areas for future market. And in near future there will be a phenomenal growth in this trading system. Though, the rules of the game are still to be developed. Income generated from carbon trading could be help for the adoption of new practices to keep the farms or land financially viable.
Thus, with the help of the concept of carbon trading we cannot only reduce the emission but we can also generate a lot of revenue out of this.