DC vs KKR: Can Deccan Chargers pull their first win?
New Delhi, Tue, 24 Apr 2012
NI Wire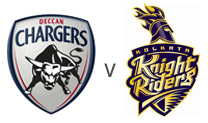 Kolkata Knight Riders won the previous encounter with Deccan Chargers by 5 wickets and prolonged DC for their first win. Deccan will hope to finally turn around the thing when they meet KKR today.
The 32nd match of IPL will be played in Eden Gardens, home ground of Kolkata Knight Riders and will start at 8 pm. It will be a tough task for Deccan Chargers to beat KKR in their home turf.
The match played between the two teams on 22, April 2012 saw KKR winning by 5 wickets.
Deccan have faced 5 straight loss and are at bottom of the table while KKR are presently placed 2 in points table with 4 wins in 7 matches they have played.
Kolkata Knight Riders Team:
G Gambhir, S Ladda, L Balaji, R Bhatia, MS Bisla, DB Das, M de Lange, BJ Haddin, Iqbal Abdulla, CS Jani, JH Kallis, B Lee, BB McCullum, EJG Morgan, SP Narine, YK Pathan, JL Pattinson, SV Samson, PJ Sangwan, I Saxena, Shami Ahmed, Shakib Al Hasan, LR Shukla, RN ten Doeschate, MK Tiwary, JD Unadkat
Deccan Chargers Team:
KC Sangakkara, A Ashish Reddy, Anand Rajan, Ankit Sharma, T Atchuta Rao, AA Bhandari, DM Bravo, B Chipli, DT Christian, KH Devdhar, S Dhawan, JP Duminy, MS Gony, DJ Harris, IR Jaggi, AA Jhunjhunwala, CA Lynn, A Mishra, T Mishra, PA Patel, V Pratap Singh, SA Quadri, DB Ravi Teja, PA Reddy, BB Samantray, C Sneha Kishore, S Sohal, TM Srivastava, DW Steyn, TP Sudhindra, J Theron, CL White, AS Yadav