Renuka Chaudhary slams Prashant Bhushan for refusing to mediate for releasing abducted collector
New Delhi, Tue, 24 Apr 2012
NI Wire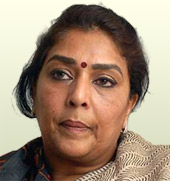 Congress leader Renuka Chaudhary Tuesday criticised Supreme Court lawyer Prashant Bhushan for refusing to mediate for the release of Sukma District Collector Alex Paul Menon.
"He (Bhushan) is such a hopeless and useless man. This is a man who doesn't speak with a sense of responsibility. He should understand what those families are going through whose members are trapped with the Maoists," Chaudhary told media outside parliament.
"I request you (media) to not spread what he says," she added.
Prashant Bhushan is a member of Team Anna, which is known for continuous attacks on Congree party for its alleged corruption charges. Congress, on the other hand, too does not loose any chance to pull the legs of Team Anna members.
Prashant Bhushan received criticism over his remark came against the offer from Maoists seeking to mediate from Maoists side to the government. On the offer of Maoists, Bhushan said, "No, I cannot mediate in this situation, because in my view, kidnapping a civilian officer and holding him as a hostage and then negotiating is not correct. So, I believe that the Maoists must release this officer unconditionally."
"Some of the demands of the ultras were legitimate and thus, the government must look into the matter and take adequate measures to address their problems," he added.
Apart from Bhushan, Maoists have named two mediators: former National SC/ST Commission chairperson B D Sharma and the president of the All India Adivasi Mahasabha Manish Kunjam.
According to latest development in District Collector abduction at Bastar in Chhattishgarh case, the medical condition of detainee is reportedly worsening, as Maoists have appealed to the mediators to carry his medicines to save his life. In case of failing, Maoists have cited to make responsible to the government.
The third interlocutor former MP and president of the All India Adivasi Mahasabha Manish Kunjam has reportedly rushed with the medicine to the Maoists.
Meanwhile, the Naxals have demanded the release of their eight colleagues: Markam Gopanna alias Satyam Reddy, Nirmal Akka alias Vijay Laxmi, Devpal Chandrashekhar Reddy, Shantipriya Reddy, Meena Choudhari, Korsa Sunny, Markam Sunny and Asit Kumar Sen.
The ultras also want anti-Naxal Operation Green Hunt to be cancelled, security forces to be withdrawn from the region and persons against whom they allege "fake cases" have been registered, released from the jails.
In an audacious operation, Maoist rebels on Saturday abducted Menon, an IAS officer of 2006 batch, from the middle of a meeting with villagers from Majhipara village in Keralapal area of the Naxal-infected district.
--With IANS Inputs--