SC dismissed PIL filled against appointment of Bikram Singh as the next Army Chief
New Delhi, Mon, 23 Apr 2012
NI Wire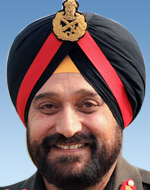 The Supreme Court (SC) today dismissed the plea filed by former defence officials and bureaucrat to restrain the appointment of Bikram Singh as the next Army Chief Lt. General Bikram Singh, who was nominated to succeed General V K Singh as the next Army Chief from May 31, 2012.
Dismissing the filed Public Interest Litigation (PIL), a bench of judges comprising Justice R M Lodha and Justice H L Gokhale said, "We don't find any justifiable cause to invoke Article 32 of the Constitution. The writ petition is accordingly dismissed."
The PIL has been filed by retired officers and bureaucrats, including former Naval chief Admiral L Ramdas and former CEC N Gopalaswamy.
Before sentencing the Judgment, the bench examined the original files relating to the appointment of Lt General Bikram Singh as the next army chief.
Earlier the bench refused to hold an 'in-camera' proceeding in the case as pleaded by the petitioners, who alleged that it's a sensitive issue, which should not be discussed in the open court.
--With Agencies Inputs--