J.P to newly elected congress councillors, work for people
New Delhi, Sat, 21 Apr 2012
NI Wire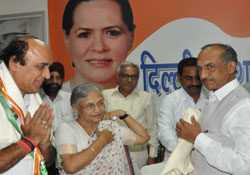 Delhi Pradesh Congress President J. P. Aggrawal said the newly congress councillors to start working in their respective wards and be available to solve the people's problem for which they have chosen to them.
The meeting was organised in Delhi Pradesh congress office in which all the newly elected congress councillor were invited. The meeting was presided over by DPCC president Jai Prakash Agarwal, Delhi Chief Minister Smt. Sheila Dikshit was also present.
Senior party leaders congratulated councillors for their victory and hoped they would do their best for their new innings.
All the newly elected Congress Municipal Councillors attended the meeting, and introduced themselves before the gathering. Agarwal and Smt. Sheila Dikshit welcomed the councillors by draping shawls and Congress tri-colour scarf's on them.
Among the newly elected Municipal Councillors present were former Mayor Farhat Suri, Mukesh Goel, Satbir Sharma, Ramesh Dutta, Harsh Sharma and Ajit Yadav.