Pak plane crashes with all 127 board , no hope for survival
Islamabad, Sat, 21 Apr 2012
NI Wire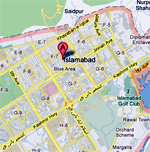 In a shocking accident a Pakistani passenger plane crashed in a stormy weather and bursts into flames when it was about to land on Islamabad airport. All the passengers have been killed in the incident as there is no hope for any survival. The plane took off from Karachi at 5 p.m. and was supposed to land in Islamabad at 6.50 p.m., but crashed just before touchdown.
Although there are conflicting reports regarding the actual death toll. Some sources said that it was 118 where as some reported that it may be 130. At least 110 dead bodies have been recovered from the accident site.
The commercial airliner, Bhoja Air 737, on its maiden flight, was descending for landing when it crashed a few miles from Islamabad airport, near Chaklala airbase,Rawalpindi
According to sources there were 129 passengers on board in which 57 women, 55 men, 11 children including six crewmembers.
The Pakistan Civil Aviation Authority (CAA) has said that plane was crashed due to bad weather.
Reports stated that there was heavy rains in the area following thunderstorm and hail was lashing the capital at the time of the crash, which occurred about 6.40 p.m.
Of the 110 bodies recovered, 50 have been sent to the Pakistan Institute of Medical Sciences (PIMS) and the remaining bodies sent to two other hospitals in Islamabad, where grieving relatives and authorities were trying to identify the bodies. The airplane's flight data recorder (Black Box) was recovered.
The worst aviation tragedy on Pakistani soil came in July 2010 when an Airbus 321 passenger jet operated by the private airline Airblue crashed into hills overlooking Islamabad while coming in to land after a flight from Karachi.
(With inputs from IANS)