Review of Vicky Donor: A delightful treat to watch
New Delhi, Sat, 21 Apr 2012
NI Wire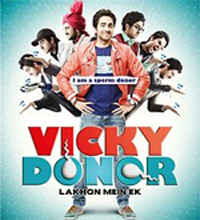 Characters:
Vicky (Ayushman Khurana)
Dr. Baldev Chaddha (Annu Kapoor)
Yami Gautam (Ashima Roy)
Dolly Ahluwalia (Vicky's Mom)
Kamlesh Gill (Vicky's Grand Mom)
Jayanta Das (Ashima's Father)
Rating: 4*
Vicky Donor is the surprise package of this year. Although the film is based on Vicky the lead character being a sperm donor, no part of the film has even a tiny bit of offensiveness. This is one film with no flaw what so ever.
Shoojit Sircar has directed this movie meticulously, the way Delhi is shown, the way actors and actresses have performed and the way in which the film showcases a very taboo issue is really remarkable. He has given importance to every single character, all present on the screen are there for reason be it the nurse of Dr. Chaddha or the assistant.
Anu Kapoor is back on the screen after a long time playing the role of Dr. Chaddha and boy he has played it well. He fits so perfectly in the character that you forget that its Anu Kapoor and not Dr. Chaddha. He ads so much to the film he will make you laugh till your stomach burst out.
But the show stealer is definitely Ayushman who plays Vicky. This VJ turned actor is really the find of the year. He is brilliantly performed the character as if made for it. Yami who plays Ashima has also performed well in her character. The scenes between the grand mom and mom of Vicky will tickle your bone.
Delhi has been shown in so many films but the pin point Kamaljeet Negi depiction of Dil walo Ki Dilli as if the story takes place really in the heart of Delhi is unparalleled. And last but not the least hats off to writer, dialogue writer and screen play writer Juhi Chaturvedi, she is a rare talent that must be cherished.
Songs and music goes well with the story. It's a delightful story of a Delhite who is jobless but carefree at the same time and Dr. Chaddha who wants to turn around his dipping work and somehow clashes with Vicky. He believes that Vicky is the perfect person to donate sperm and thus starts following him everywhere to convince him. Finally Vicky agrees but the twist comes when he falls in for Bong beauty Ashima...
It's sure that people will come out satisfied, not a single moment gives you the chance to move your head. Great film, great comedy and sensible screen play after a long time.