SC stays Bhatt's trial
New Delhi, Fri, 20 Apr 2012
NI Wire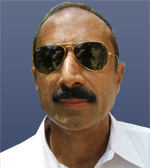 Giving a major relief to a suspended Gujarat police officer Sanjiv Bhatt, Sanjiv Bhatt, facing charges of pressurising his official driver to make a false statement in connection with the alleged inaction of the Narendra Modi government during the 2002 riots in the state, the Supreme Court of India Friday stayed the trial against him.
Putting stay on Bhatt's trial, a bench of two judges, Justices Aftab Alam and Ranjana Desai halted the proceedings Bhatt pleaded that the entire case against him was fabricated and was a consequence of political vendetta.
Bhatt was seeking investigation by an independent agency into the allegations.
It was alleged that Bhatt had pressured his driver K.D. Pant to tell a court that he drove the Gujarat cadre Indian Police Service officer to Chief Minister Modi's residence Feb 27, 2002.
Bhatt had claimed that in the meeting held at the chief minister's residence that day Modi had told senior administration officials not to act against people who were rioting in the wake of the Godhra train carnage that sparked communal violence in Gujarat.
Pant subsequently rejected the statement that he drove Bhatt to the chief minister's residence and said he had made his earlier statement under pressure from the police officer.
At present Bhatt is under suspension and lives in Gandhinagar.
--With IANS Inputs--