Separate Tamil state is the only remedy: Karunanidhi
Chennai, Fri, 20 Apr 2012
NI Wire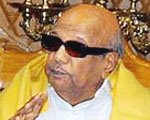 DMK chief Karunanidhi once again ignited the separate Tamil state issues and reiterated that the song of liberty will never erase from the memory of Tamils. Karunanidhi compared the Tamil state with the burning issues of Kosovo and other states in the world.
Karunanidhi revealed his feelings towards separate Tamil state in Sri Lanka. He said the blood and tears shed by the Tamil people during the fighting would not go in vain. It may be their demand of a separate Tamils state could not fulfil tomorrow, but certainly it come true day after tomorrow.
Karunanidhi referred for a UN sporsored referendum for his purpose he said that East Timor and South Sudan had come into existence following such an initiative and due to international interference.
He said that DMK had took the resolution in 1983 demanding a separate homeland for Tamil as it was not possible for them to live with majority Sinhals in the wake of the genocide.