Nicki Minaj deletes her Twitter account
New Delhi, Fri, 20 Apr 2012
NI Wire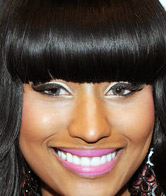 Rapper Nicki Minaj has bid adieu to social networking website Twitter after she got angry when her music was leaked online. The rapper has deleted her account from the social networking site.
The 29 year old got angry when fan site Nicki Daily posted leaked tracks of her relaunched album "Pink Friday: Roman Reloaded".
After that, she deleted her account on Twitter saying she would not return to the site.
On Twitter the singer wrote: "And that's exactly why I'm paying the barbz DUST right now! And deleting my twitter. Smdh - don't cry for me Argentina. Like seriously, its but so much a person can take. Good f***ing bye. (sic)," reports showbizspy.com.
"On second thought I'll just follow a new set of barbz. The ones I follow r very mean and ratchet. *side eyes them* *looks into the sea for more* (sic)," Nicki Minaj added.
--with inputs from IANS