Need for a working group for BRICS development bank: India
Washington, Fri, 20 Apr 2012
NI Wire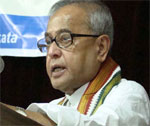 India has suggested to form a working group consists of finance ministry and central bank officials of the BRIC countries. It will be beneficial for the creation of a development bank among the BRIC countries for increase the trade among the countries.
Indian Finance Minister Pranab Mukherjee said during a meeting of the BRICS (Brazil, Russia, India, China and South Africa). He proposed that a working group be set up comprising representatives from our finance ministries, central banks and other experts co-chaired by India, as the current BRICS chair, and South Africa, as the next BRICS chair.
That working group should be asked to submit its report by November this year and that would form the basis for formation of the proposed development bank, he added.
He said that the working group should decide on its own composition, work plan and processes. After that the report should be back to us, which could be a base for the discussion in the next meeting in November 2012.
It is noted that in the last BRICS meeting in New Delhi it was decided to form a development bank for the five emerging economies of BRICS countries, which make up 43 percent of the world's population and one-fourth of the global economy.
(With inputs from IANS)