MCD: BJP raise questions on the trifurcation
new Delhi, Fri, 20 Apr 2012
NI Wire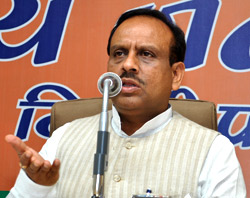 Delhi State BJP chief Vijendra Gupta has written a letter to the Central Home Minister requested for reconsidering the hasty decisions of Delhi Government and Home Ministry for trifurcation of the Corporation and demanded decentralization of the Corporation only after clearing the doubts on the points raised in the letter and after framing clear cut policy in this regard.
Vijender Gupta has expressed his desire that till the Home Ministry frames clear cut policy, direction, rules and regulations etc. on the serious matters raised in the letter, the civic Government should be allowed to functions under one Corporation in Delhi.
He has told the Home Minister P. Chidambaram that in view of the seriousness of the matter and in view of need of hour, he should give an appointment immediately to meet a senior delegation of BJP so that a concrete decision may be taken on the matters, which require answers.
Shri Gupta said that BJP is in favour of decentralization of power and simplification of working of the Corporations. But in a planned conspiracy the way in which MCD was trifurcated in an arbitrary manner without considering the detailed strategy and due to obstinate attitude of the Chief Minister Sheila Dikshit, it would be difficult to run the affairs of the corporations and we shall have to face serious, legal, financial, human and social problems.
He told that when Dr. Shyama Prasad Mukherji Civic Center was to be made the headquarters of North and South Delhi Corporations then what is the justification of dividing the corporation into two independent and separate Corporations?
The people of south Delhi will not benefit by the decentralization. The results of the elections to the MCD have also made it clear that the people of Delhi have rejected the claims of Chief Minister Sheila Dikshit that the people will benefit by the trifurcation of MCD.
BJP Pradesh President has reiterated that BJP is not against all round and uniform development of Delhi. But the party has doubts that this decision of trifurcation may backfire and the people may have to face great difficulties in place of getting services at the doorstep.