Assam should become a growth engine: PM
Dispur , Fri, 20 Apr 2012
NI Wire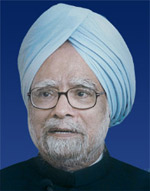 Prime Minister Manmohan Singh said that Assam is a new engine of growth in the northeast and it has now been the beneficiary of over a decade of sustained progress, economic and social development. He was speaking during the inauguration of the platinum jubilee celebration of the Assam legislative assembly.
He said that Assam is now on the cusp of emerging as one of our frontline States. This august Assembly has also much to be proud about its past decade. It has been witness to many pro-people legislation and development-oriented initiatives.
He said that Assam emerge as a new engine of growth for the North Eastern redion and the country as a whole in the 12th plan period. Certainly Assam will be able to record a rate of growth of over 9.0 percent. He assure the people of Assam that the Central government will do whatever is possible to help Assam to achieve this goal.
He said that central government has done everything to extend a helping hand to the government and people of Assam. The annual plan outlay for the State has increased from Rs 3000 crore in 2005-06 to Rs 9,000 crore in 2011-2012. The total transfers to Assam for the period 2010-2015 as per the recommendations of the 13th Finance Commission would be about Rs 58,000 crore against the total of Rs 24,000 crore estimated for the period 2005-2010.
He announced many projects for the Assam on the occasion. The Assam Gas cracker project was approved in April 2006, which will be cost of about 8000 cr and project will be completed in December 2013.
A new 750 MW Bongaigaon Thermal Power Project at an estimated cost of about Rs 4400 crore was approved in January 2008. The project is likely to be completed in October 2013.
During the 11th Plan period over 8000 km pucca roads have been constructed under the Pradhan Mantri Gramin Sadak Yojana. More that 6-lakh rural houses have been constructed under the Indira Awas Yojana.
(With Agencies inputs)