Cancer resistance in people taking aspirin: Mystery revealed
New Delhi, Fri, 20 Apr 2012
NI Wire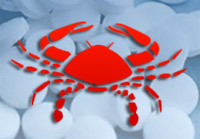 Researchers have unveiled the puzzling side-effect of taking aspirin: the drug that is supposedly reduces a person's chances of initiation of some forms of cancer.
A key ingredient in the aspirin -salicylate - shows such potential as an anti-cancer treatment was mysterious for long, but studies done on mice has shed some light on it.
Aspirin that is supposed to be world's oldest medicines is synonymous e with its anti-inflammatory and analgesic effects and quickly dissolves inside the body into salicylate.
In order to discover aspirin's unforeseen side-effects, Grahame Hardie at the University of Dundee, UK administered salicylate to cultured human cells derived from the kidney. He found that the drug triggered AMPK, an enzyme with a key role in cell growth and metabolism that also plays a role in cancer and diabetes, says reports of New Scientist.
"This is an ancient herbal remedy which has probably always been part of the human diet," Hardie has been quoted as saying.
"But despite that we're still finding out how it works."
Greg Steinberg of McMaster University in Hamilton, Ontario, Canada, who is also co-author of the study, then examined high doses of salicylate on different varieties of mice.
He reached at the conclusion that those engineered to lack AMPK did not go through same kind of metabolic effects from salicylate as noticed in mice with AMPK.
One from of Salicylate which is also called salsalate, has also showcased potential as a drug for insulin-resistance and type 2 diabetes.
But those effects are not to be regulated by AMPK. When insulin-resistant mice lacking AMPK were administered with salicylate, they exhibited that the same improvement in blood glucose levels as normal mice.
"That's what makes aspirin so scientifically and clinically interesting," Chris Paraskeva at the University of Bristol, UK, who was not involved in the work, has said.
"It potentially works through a number of different pathways."
The research has effectively divided aspirin's pain-relieving effects from its anti-cancer properties. This discovery can facilitate the development of new anti-cancer drugs that have lesser side-effects than this well-known anti-inflammatory and analgesic.
--with inputs from ANI