CBI files more chargeshets against Janganmohan Reddy
Hyderabad, Mon, 02 Apr 2012
NI Wire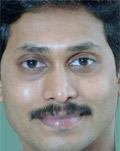 The Central Bureau of Investigation (CBI) on Monday filled more chargesheet against YSR Congress chief & Kadapa MP YS Jaganmohan Reddy in the illegal assets case, sources said.
According to sources, CBI has also added the name of former Chief Minister of Andhra Pradesh YS Rajasekhara Reddy, as during his regime, his son Jaganmohan Reddy had allegedly collected whopping properties and earned huge money through illegal ways.
The inclusion of YSR Reddy is also the matter of embarrassment for Congress Party as YSR Reddy was the member of Congress when he was Andhra's CM.
Viewed as the most popular chief minister of Andhra Pradesh, YSR had implemented various welfare schemes and development programmes for the people of the state.
According to news sources, the chargesheet of CBI's summery says that businessmen and others were encouraged to invest in Jagan Mohan's vast business empire, following which they would receive licences or other favours from government led by YSR Reddy.