Star Groups bags TV and digital broadcast rights of Indian cricket
Chennai, Mon, 02 Apr 2012
NI Wire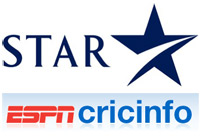 Star Group on Monday has won the television, internet and mobile broadcast rights of Indian cricket for a period of six years (2012-2018). The deal was finalized in Rs.3851-crore for 96 matches to be held in the next six years. These matches will be broadcast on television, internet and mobile phones.
The 96 matches comprises with all international matches to be played in India, and domestic series like Ranji Trophy, Duleep Trophy and Irani Trophy.
Star Group along with ESPNcrickinfo have jointly called the highest bid, a BCCI official informed to media.
The bid was too high in the comparison of second highest bid, he added.
The second highest bidder was Multi Screen Media (Sony), as only two bidders joined in the bidding while five had filled the bidding form.
Star Group and ESPNcricinfo will pay approx. Rs.40-crore for each match which is Rs.7.5-crore higher than the current price, which previous broadcaster Nimbus was paying.
Board had terminated the broadcasting contracts with Nimbus on last December and announced to begin a fresh bid.
The second bidder Sony has already won the broadcast rights of all IPL matches of season 5.