Lack of strong script is the reason for delay in third Munna Bhai Hirani
New Delhi, Mon, 02 Apr 2012
NI Wire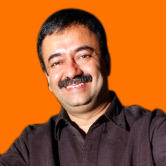 Well known dDirector of 'Munna Bhai' series of films Rajkumar Hirani has said that the lack of a strong script is the reason for delay in the third film of the series. Rajkumar Hirani has directed successful films like "Munnabhai M.B.B.S." and "Lage Raho Munna Bhai".
"We have always wanted to make the third film but it is getting delayed because it shouldn't look like we are making it only to encash it," Hirani has been quoted as saying.
The third movie of the series was named "Munna Bhai Chale Amerika", but it was shelved. Now the new movie in the series is called "Munna Bhai Ki Aatma Katha".
"We want the third to be better than the previous two. So, it is getting delayed because script-wise it still needs to be strong...but we will definitely make the third film," this National Award and Filmfare Award winning director has said.
Hirani said this at a festival organized to celebrate producer Vidhu Vinod Chopra's three decades in the film industry.
On this occasion Hirani also said that actors Sanjay Dutt and Arshad Warsi, who essayed the Munna and Circuit in the previous films of this series will also star in the upcoming films.
"Sanju is Munnabhai, I can't imagine anybody else as Munnabhai. Sanju and Arshad as Munna, Circuit," he added..
Sanjay says being a part of "Munna Bhai" changed his life for good.
"From my career, my daily life to my image, everything has changed because of 'Munna Bhai', it's so important," the famous director said on the occasion.
"It is a memorable film, a memorable role. Actors very rarely get a chance to do such a role and I think I am lucky," he said.
In the first film of this series "Munna Bhai M.B.B.S.", Sanjay played the character of a faux medical student, who has an innovative way of treating people.
The second film of this series "Lage Raho Munna Bhai", depicts Sanjay's 'Gandhigiri' -- non-violent methods to solve people's personal problems.
Sanjay is working on the films like "Race 2", "Zilla Ghaziabad", "S.O.S.- Son of Sardar" and "Department."
--with inputs from IANS