Indians should stop excessive consumption of junk food, says diet experts
New Delhi, Mon, 02 Apr 2012
NI Wire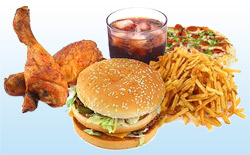 According to the diet experts, the habit of consuming junk food among Indian is increasing day by day and have warned that this could lead to severe health conditions.
Deputy Programme Manager at the Food Standards and Safety Authority of India (FSSAI) Savvy Soumya Mishra said that just blaming the international chains of fast food to spoil the pattern of diet in India is not enough.
She said that fast food has penetrated to the rural markets also in different forms such as potato chips and soft-drinks and wished that some remedial measures should be taken regarding this.
"Potato chips and similar snacks are available even in remote villages, where you may not find a school or a ration shop. These things have more reach. There will be soft-drink bottles in places that may not have even clean drinking water. McDonald's and Pizza Hut may not have reached there, but chips and soft drinks have, what a pity!" Mishra said.
She also laid emphasis on the importance of reducing children's reach to such trans-fat-laden junk food and suggested that such eatable items should be banned in schools.
"Imposing a ban is the government's decision, but junk food must be banned in schools because it is difficult to restrain children. You can ban it in school and introduce fruits and fruit juices. There are also many things prepared at home. We grew up eating a lot of other things, traditional food. We did not grow on chips and packaged snacks like Kurkure," added Mishra.
The extent of junk food is now not only limited to food items like buggers and pizzas, said Dr. K K Aggarwal , a Delhi-based cardiologist.
He added that the conventional Indian snacks are also a big threat as they are prepared using vegetable fat.
"We shouldn't get carried away and just ban burgers. Everything that just tastes good is bad for health, because such things will either be made with 'ghee' (clarified butter), which is very unlikely, or with trans fats sourced from vegetables. So, whatever contains trans fats is unhealthy, regardless of whether it is commercial or not," said Dr. Aggarwal.
However, the reaction of the common people towards junk foods was seem to be mixed.
"Young people these days prefer fast food. But as the report has said, one should avoid that food. As far as traditional recipes are concerned, we should go for that," said Suresh, a resident of the city.
In contrast to that, another opinion regarding this suggested that junk food has now became a necessity to the changed nature of people's daily lives, and they come in different varieties of which some of them are healthier than the rest.
"These days, people need their food quick. Many families have both parents working, so burgers and chips are very good alternatives for those who are in a rush. But these things come in many varieties. Now we have potato chips, which are baked. One can eat well, it is also a little costly, but we can't say these things are useless," said Arpit, a Delhi based resident.
Moreover, the regulating body for food safety in India, Food Safety and Standards Authority of India (FSSAI) proclaims the products free of trans fats if the content of trans fats is less than 0.2 grams per serving.
However, as per a recent report presented by the Centre for Science and Environment, many brands are claiming their products to be trans fat free even though the content is much higher.
Excessive and regular consumption of trans fat consumption enhances the possibility of coronary heart disease and hence recommended by the health experts to consume them only in traces.
-With inputs from ANI