Can Sourav's Warriors thump another victory over Dhoni's Super Kings?
New Delhi, Thu, 19 Apr 2012
NI Wire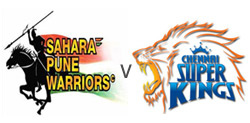 Last time Pune Warriors met Chennai Super Kings in the 16th match played at their home ground they scored a remarkable 7-wicket win over them.
But in today's match Sourav led warriors will take on Dhoni's Super Kings in M.A. Chinnaswamy Stadium, home ground of defending champions. The odds are with Chennai as their team is familiar with the home condition but Pune and Dada have proven time and again that they can take any team and defeat them. Moreover CSK have yet not performed to their standards while Pune warriors have defeated all big names including CSK in their previous encounter.
Chennai Super Kings are two points behind Pune and are at 6th position while Pune are at 4th with 3 wins in the 5 matches they have played. CSK have won only 2 of their 5 matches.
Chennai Super Kings Team:
MS Dhoni, S Anirudha, R Ashwin, S Badrinath, GJ Bailey, DE Bollinger, DJ Bravo, F du Plessis, BW Hilfenhaus, MEK Hussey, RA Jadeja, SB Jakati, Joginder Sharma, S Randiv, KMDN Kulasekara, VY Mahesh, JA Morkel, A Mukund, SK Raina, WP Saha, SB Styris, S Tyagi, K Vasudevadas, G Vignesh, M Vijay
Pune Warriors Team:
SC Ganguly, ER Dwivedi, MJ Clarke, AB Dinda, CJ Ferguson, RV Gomez, Harpreet Singh, DS Jadhav, Kamran Khan, M Kartik, HH Khadiwale, B Kumar, NL McCullum, AP Majumdar, M Manhas, AD Mathews, MD Mishra, AG Murtaza, A Nehra, MK Pandey, WD Parnell, S Rana, JD Ryder, MN Samuels, R Sharma, GC Smith, SPD Smith, Tamim Iqbal, AC Thomas, K Upadhyay, RV Uthappa, SB Wagh, LJ Wright