Agni-V: Nato denies India's missile program a threat; PM praises scientists
Bhubaneswar, Thu, 19 Apr 2012
NI Wire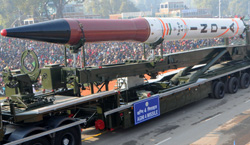 North Atlantic Treaty Organization (NATO), an intergovernmental military alliance of 28 countries does not consider India as a missile threat despite the country's advanced missile development programme, as NATO Secretary General Anders Fogh Rasmussen said.
Indian Prime Minister Manmohan Singh has congratulated the team of scientists of DRDO (Defence Research Development Organisation) for successfully testing India's indigenously long range ballistic missile Agni-V on Thursday morning that can hit deep in China and entire Pakistan.
Speaking at a news conference at the NATO headquarters in Brussels, Rasmussen said Wednesday the Alliance does not consider India as a threat to NATO allies and territory.
After successful testing 5,000 k.m. range ballistic missile, a three-stage solid-fuel missile that can carry a nuclear warhead, India has join the elite club of nations having Inter-Continental Ballistic Missiles (ICBM), which includes the US, UK, Russia, China, Britain and France.
Congratulating to DRDO Chief Dr VK Saraswat, Agni-V Project Director Avinash Chander and his team, PM Singh said, "I congratulate all the scientific and technical personnel of the DRDO and other organisations who have worked tirelessly in our endeavour to strengthen the defence and security of our country."
"Today's successful Agni V test launch represents another milestone in our quest to add to the credibility of our security and preparedness and to continuously explore the frontiers of science. The nation stands together in honouring the scientific community," he added.
Defence Minister AK Antony spoke to DRDO Chief Dr VK Saraswat and Project Director Avinash Chander and congratulated them for this immaculate success of Agni-V.
The launch of Agni-V was delayed on Wednesday due to inclement weather at the test range in Wheeler Island off the coast of Odisha.
The test firing is a major leap forward in missile technology and military deterrent capability for the country.
India in November last tested the 3,500-km-range Agni-IV missile giving muscle to the country's deterrent capability against the military adversaries.
The nuclear-capable, three-stage Agni-V, about 50-tonne in weight and 17.5-metre tall, will become fully operational by 2014-2015.
--With Agencies Inputs--