Will Deccan Chargers find their first win of IPL against Delhi Daredevils?
New Delhi, Thu, 19 Apr 2012
NI Wire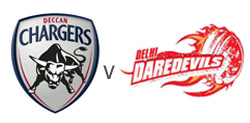 Deccan Chargers who have lost all their 3 matches of this IPL will hope to turn things around when they face Delhi Daredevils in today's match.
The 23rd match of IPL 2012 will be played in home ground of Daredevils at Feroz Shah Kotla Stadium and will start at 4 pm in the evening.
While Delhi moral would be high as they marked a superb win over Mumbai Indians in their previous match, Deccan will have to put up some great performance to beat confident Delhi side.
Deccan are sitting at the bottom of the table with 3 losses in 3 matches they have played, Daredevils are in 2nd position with 3 wins in their 4 matches.
Delhi Daredevils Team:
V Sehwag, MC Juneja, VR Aaron, AB Agarkar, P Bisht, R Bist, GH Bodi, DAJ Bracewell, U Chand, AJ Finch, DPMD Jayawardene, GJ Maxwell, M Morkel, S Nadeem, Y Nagar, PT Naik, P Negi, NV Ojha, IK Pathan, KP Pietersen, KC Raval, AD Russell, AM Salvi, LRPL Taylor, RE van der Merwe, Y Venugopal Rao, Vikas Mishra, DA Warner, TP Yadav, UT Yadav, Zafir Patel
Deccan Chargers Team:
KC Sangakkara, A Ashish Reddy, Anand Rajan, Ankit Sharma, T Atchuta Rao, AA Bhandari, DM Bravo, B Chipli, DT Christian, KH Devdhar, S Dhawan, JP Duminy, MS Gony, DJ Harris, IR Jaggi, AA Jhunjhunwala, CA Lynn, A Mishra, T Mishra, PA Patel†, V Pratap Singh, SA Quadri, DB Ravi Teja, PA Reddy, BB Samantray, C Sneha Kishore, S Sohal, TM Srivastava, DW Steyn, TP Sudhindra, J Theron, CL White, AS Yadav