In Sports, India has not dearth of talents: Verma
new Delhi, Thu, 19 Apr 2012
NI Wire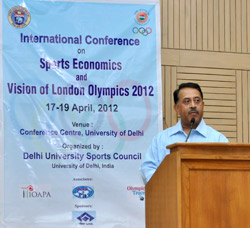 Today sports significantly contribute to economic and social development and improve health and personal growth of the people of ages especially the young. In this regards an International conference on the International Economics and Vision of London Olympics is going on in the capital. Conference is organised by Delhi University Sports Council University of Delhi.
On the occasion D.D. Verma, DG of Sports Authority of India (SAI) said that there is not a lack of talents in India but only need is to search them. He insisted for a partnership with the private sector and come forward for the betterment of the sports in the country.
Verma hoped that performance of Indian team will be better in the London Olympic and can achieve more medals than previous time.
Proctor Usha Rao, sports department in DU said that men could avoid hospitals and Doctors if attached oneself with sports. She stressed students for engage sports in their daily life.
On the occasion many personalities expressed their view regarding the need of sports in our life. They said that it is sports, which promotes peace and tolerance by inculcating sportsman spirit as it brings people together on common ground, bypassing national and ethnic barriers.
Scholars highlighted the facts that sports economics is the basic discipline of learning the sports as a profession. Sports Economics helps in understanding he financial aspects in organizing sporting activities.
They said that the main objective of the organisation is to evaluate the role of sports economics in winning medals in the World sporting events like Olympic games, Commonwealth games etc.
Personalities said that the basic aim of the conference is to analyze the existing sports economics scenario with reference to our medals tally in London Olympic 2012.