Banks cut lending rate, deposits rate
Mumbai, Thu, 19 Apr 2012
NI Wire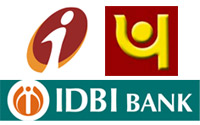 Following the order of Finance Ministry to cut the lending rate as Reserve Bank of India, the master bank on Tuesday cut its policy rate more than expected to 50 basis points (bps), two state run and one private sector banks on Thursday announced to reduce their lending and deposit rates by 25 bps (0.25%).
The other state run banks are still watching to State Bank of India (SBI), country's biggest banks, which has not made any announcement of rate cut.
However, Finance Ministry has already directed to state-run banks to immediately cut their interest rates on loans, but banks seem reluctant to do this due to cash-crisis.
Initiating to government's direction, Industrial Development Bank of India (IDBI) on Wednesday cut it's base rate - the rate at which banks lends to their privilege customers - by 25 bps to 10.50%.
On Thursday morning country's second largest state run bank Punjab National Bank (PNB) announced to cut its long term lending rate by 25 bps to 10.50%, which means now long term loans such as housing loans, auto loans and educational loans would be cheaper.
ICICI Bank today becomes the first private sector bank to cut its lending rate by 25 basis point to 9.75%.
The revised rate of ICICI Bank would come into effect from April 23, 2012 while PNB's revise rate would come into effect from May 01, 2012.
--With Agencies Inputs--