3 Commuters killed, fall off Mumbai local train
Mumbai, Thu, 19 Apr 2012
NI Wire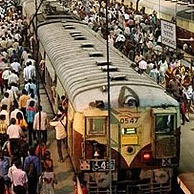 Three commuters paid the cost for overcrowds in the local train when they felt off from the local train in Central Railway in Mumbai suburb. Both the passengers felt off from the train between Bhandup and Nahur railway stations.
15 other passengers were injured when they fell off from local train in the accident. Rail Minister has announced to relief of 2 lakh each to the family of the death victims.
Central Railway official has confirmed the death. 15 others also lost balance and fell off the crowded train at the station.
Although official has said that there was no violation found on the part of the Central Railway and that the deaths and injuries were caused due to overcrowding in the trains.
It is noted that commuters are bound to face the harrowing situations for the last two days due to a technical default in the main signal cabin at Kurla station. A fire had witnessed at the Kurla stations signal cabin and due to this train services have been badly affected.
Meanwhile Railway Minister Mukul Roy has condoled the death of people and announced a compensation of Rs.2 lakh each to their families.
(With inputs from IANS)