Centre declines to clear its stand on Ram Sethu before SC
New Delhi, Thu, 19 Apr 2012
NI Wire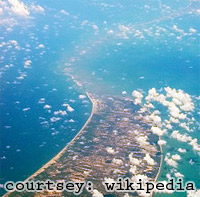 To avoid any sort of controversy, the United Progressive Alliance (UPA) government on Thursday made it clear before the Supreme Court that it has no stand over mythological Ram Sethu whether it should be declared as a national monument or not.
The apex court was hearing a Public Interest Litigation (PIL) filled by Janta Party President Subramanium Swamy who had filled the plea seeking government's stand on declaring Ram Sethu (also known as Adam's Bridge situated in the Palk Strait between southern India and Sri Lanka) a national monument.
A bench of Judges, Justice HL Dattu and Justice Anil R Dave Thursday recorded that the central government does not intend to file its response to the petition of Swamy.
The court at its last hearing had asked additional solicitor general Harin Rawal to take instructions from the government regarding to declare Ram Sethu a national monument.
The Court has set the next hearing date on this issue in the third week of August.
Earlier, on March 27, SC had asked the central government to explicitly state whether the mythological Ram Sethu could be declared a national monument.
It gave the government a day to address its query, and decided to take up the matter on March 29.
The court also directed the government to place before it the report of the group headed by environmental expert R K Pachauri on the feasibility of executing the Sethusamudram project off Dhanushkodi, a town at the southern tip of the Rameswaram island of the Tamil Nadu.
The earlier plans of cutting a shorter sea navigation route through Ram Sethu had run into litigation and controversies involving religious beliefs.
The National Institute of Oceanography (NIO) in 2009 had stated that there was inadequate data to come to a definite conclusion if alignment 4A at Dhanushkodi could be used as an alternate route for undertaking the Sethusamudram project.
The court gave the central government six weeks to submit its report.
--With Agencies Inputs--