For Mariah Carey Pregnancy was best and hardest thing she will go through
New Delhi, Thu, 19 Apr 2012
NI Wire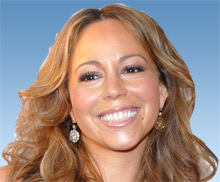 Mariah Carey has confessed that it wasn't cakewalk for her to get her figure back, especially after putting on much weight during her pregnancy.
The 'Emotions' hit maker is now in fantastic shape after delivering twins a year ago.
"I put on 70 lbs but if you look at me in pictures you'd think it was more like 9,000 lbs. I have a lot of empathy with people who have to lose a lot of weight," the Daily Mail quoted Mariah as saying.
"I've been there and I know what they are going through. I remember thinking at the time: "I'll never look or feel the same again'," she added.
the actress said that she was wrong and she now looks and feels better than ever.
As a testimony, the singer posed for the cover of the May issue of Shape magazine, showing her good looking abs in just a blue and white striped crop top and white knickers.
The 42 year old wife of Nick Cannon said to the magazine that being pregnant with Monroe and Moroccan was a tricky time for her.
"Pregnancy was probably the best and the hardest thing I'll ever go through.
"I know for a lot of women, it can be wonderful and relatively easy. But for me, it was like "Okay, honey, do you have to do everything the hard way?"" she said.
-with inputs from ANI