Naturopathy can control blood sugar levels, improve mood in diabetics
New Delhi, Thu, 19 Apr 2012
NI Wire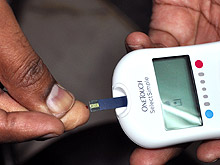 Naturopathy, which is an alternative form of treatment, is effective in lowering blood sugar level and improvement of mood in the patients suffering from diabetes. Type 2 diabetes patients who has undergone naturopathic treatment had lower blood-sugar levels, good eating and exercise habits, improved moods, and an increased sense of control over their condition than did patients who has received only conventional treatment, says researchers.
A new joint study by Group Health Research Institute and Bastyr University Research Institute reached this conclusion. The research also exhibits that complementary and alternative medicine (CAM) may have numerous positive effects on people suffering from type 2 diabetes.
"The news is encouraging for those fighting the disease," said Ryan Bradley, ND, MPH, director of the Center for Diabetes and Cardiovascular Wellness at Bastyr University and its clinic, the Bastyr Center for Natural Health.
"Patients involved in the study cited the benefits of trying different approaches to find the best ways to minimize the effects of type 2 diabetes. In many ways, that strategy mirrors our partnership with Group Health in this research study-working together to discover the best possible solutions," he further added.
The study was conducted on forty participants who were given counseling on diet, exercise, and glucose monitoring from four naturopathic physicians (NDs) in addition to traditional diabetes care from their physicians, including prescription medications.
Most of the participants were also given stress-management care and dietary supplements. After that, as a part of study these 40 participants were compared with 329 patients who were given only conventional diabetes treatment.
In six months and about four naturopathic treatment visits, participants demonstrated improved self-care, more consistent monitoring of glucose, and improved moods.
Hemoglobin A1c rates (a unit of blood-sugar control) were closely a full percentage point lower for those patients. This compares with a drop of only 0.5 percent over the same time period for 329 clinically similar patients who were given only conventional diabetes treatment.
The inspiring findings from the observational study conducted on small scale will need further confirmation by a randomized trial with larger numbers of participants, says Dr. Bradley.
The results of the study have been published in BMC Complementary and Alternative Medicine.
--with inputs from ANI