Pakistan is in favour of peaceful coexistence between the two neighbours: Kayani
Islamabad, Thu, 19 Apr 2012
NI Wire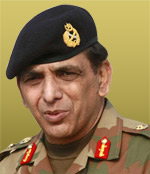 Advocating to live peacefully with neighbourhood country, Pakistani Army chief General Ashfaq Parvez Kayani said Wednesday that his country favoured talks with India to demilitarize the Siachen Glacier - dubbed as the world's highest battleground.
"Peaceful coexistence between the two neighbours is very important so that everybody can concentrate on the well-being of the people," General Kayani said to reporters at Skardu airport in northern Pakistan after returning from the site of Siachen Glacier on Wednesday where nearly 140 people including 124 Pakistani soldiers were buried on April 07 due to heavy avalanche.
He said Pakistan was open to talks with India to demilitarize Siachen.
"Both countries should sit together to resolve all the issues including Siachen."
He added that Pakistan's pursuit for peace should not be mistaken for its weakness.
Accusing India that nudged Pakistan to deploy military at extreme high level of earth, Kayani said that it was no secret to the world.
"It were Indians who carried the war onto Siachen forcing us to get up there and stop them in their tracks, we only mounted a natural tactical response," he said.
"We are only manning the border on this frigid outpost 22,000 feet above the sea-level in the line of duty."
Pakistan and India invest significant resources in maintaining a military presence on the Siachen Glacier.
Kayani's response came a day after the comments of former Pakistani Prime Minister Nawaz Sharif who said that both countries must immediately pull out their troops from Siachen.
Sharif, who heads the Pakistan Muslim League-Nawaz, urged Pakistan and India to immediately start negotiations to resolve the Siachen issue and pull their troops out of the region, a leading Pakistan newspaper reported.
He suggested that Pakistan should take the initiative in this regard and urge India to hold talks.
General Kayani refused to comment on Sharif's remarks.
--With IANS Inputs--