Jason Segel dating Michelle Williams
New Delhi, Wed, 18 Apr 2012
NI Wire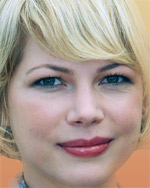 Jason Segel has revealed that he is dating Michelle Williams, and says that they "just want to be happy".
Rumors of the duo dating surfaced when they were seen laughing and walking hand-in-hand through New York City, a few weeks ago.
"I think we would just very much like to be happy. That's all I'm going to say about it," Us magazine has quoted him telling US television show 'Extra'.
Jason Segel current co-star and off-screen friend Emily Blunt jokingly says that the actor has considerably matured thanks to Williams.
"He's a man-boy! He used to be a boy-boy and now he's a man-boy," Blunt added.
"I think I might even be becoming a man-man... potentially!" Segel said jokingly.
As per some inside reports, Segel "has been trying to be more of a grown-up lately" to show his "commitment" to Williams, who has a daughter Matilda.
"He is taking care of himself more, exercising, eating right and dressing better. Basically, not acting like a frat boy anymore," the insider has been quoted as saying.
The duo was friends for years through mutual friend Busy Philips, the couple's relationship "kind of happened overnight!" another pal marveled.
--with inputs from ANI