Stage set for Agni-V missile test
Bhubaneshwar, Wed, 18 Apr 2012
NI Wire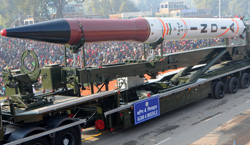 The stage is set at Wheelar Island, off the Odisha coast for testing India's long range missile Agni - V scheduled in evening today, sources said.
The preparation of test fire has been completed and final reviews were going on before beginning the count down of India's most potent ballistic missile that can carry a nuclear warhead to 5000 k.m from its launch pad.
The test fire of India's longest range Agni-V missile is scheduled around 7 p.m..
Besides DRDO scientists, senior officials of defence will also be present.
Agni-V is a three-stage missile designed to carry a 1.5-ton warhead with a range of 5,000 kilometers (3,100 miles) to cities of Beijing and Shanghai of China.
The 17-metre tall missile has been prepared with the estimated cost of Rs.25-billion.
India will join the elite club of exclusive ICBM club (US, UK, Russia, France and China) once the 50-tonne Agni-V is ready for induction by 2014-2015.
In last November, India has tested it's fourth edition of Agni missile Agni-IV that ranges 3,500 k.m.
--With Agencies Inputs--