Odisha MLA Abduction crisis: Deadline ends today
Bhubaneshwar, Wed, 18 Apr 2012
NI Wire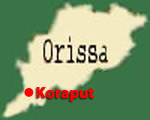 The release of abducted Biju Janta Dal legislator Jhina Hikaka is still looking gloomy as the deadlock situation still continued till the end day of deadline given by Maoists for releasing him.
According to sources, Maoists are rigid on their stand, asking to release all 29 maoists and tribal prisoners while government is ready on releasing just 25 prisoners who are on bail.
Moreover, Maoists are also asking to scrap all charges leveled against Maoist prisoners while government has given signal that it will seriously concern to withdraw charges against some prisoners.
The Maoists has set a deadline at 5 p.m. today.
Informing to reporters, Odisha's Panchayati Raj Secretary P.K. Jena said, "If release of the tribal MLA takes place by 5 pm, the deadline set by the Maoists, the government will seriously consider withdrawal of prosecution in suitable cases."
Jhina on the other hand has informed to the government through a released audiotape by kidnappers that he is still unharmed and in good health.
--With Agencies Inputs--