Firm Rajasthan Royals to face underdog Deccan Chargers today
New Delhi, Tue, 17 Apr 2012
NI Wire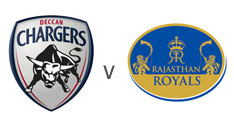 Rajasthan Royals will arrive in today's match filled with confidence while Sanga led Deccan Chargers will hope that this time they can turn around things in their favors.
DC lost their previous encounter against MI just by 2 runs, a match that could have been theirs easily. On the other hand, RR thumped a remarkable 59 run victory over RCB in their previous match.
DC hasn't found an able partner of Dale Steyn yet and their batsmen too have struggled for their form while Rayudu, Owais, Siddhart and Hogg are in superb form for RR.
The 20th match of IPL 2012 between Rajasthan Royals and Deccan Chargers will be played in Sawai Mansingh stadium of Jaipur and will start from 4 pm today.
Rajasthan Royals:
R Dravid, STR Binny, J Botha, DL Chahar, LD Chandimal, AA Chavan, A Chopra, PD Collingwood, K Cooper, AP Dole, SM Fallah, FY Fazal, SP Goswami, BJ Hodge, GB Hogg, AL Menaria, S Narwal, Pankaj Singh, AG Paunikar, AM Rahane, AS Raut, OA Shah, PR Shah, A Singh, S Sreesanth, SW Tait, SK Trivedi, SR Watson, DH Yagnik
Deccan Chargers:
KC Sangakkara, A Ashish Reddy, Anand Rajan, Ankit Sharma, T Atchuta Rao, AA Bhandari, DM Bravo, B Chipli, DT Christian, KH Devdhar, S Dhawan, JP Duminy, MS Gony, DJ Harris, IR Jaggi, AA Jhunjhunwala, CA Lynn, A Mishra, T Mishra, PA Patel, V Pratap Singh, SA Quadri, DB Ravi Teja, PA Reddy, BB Samantray, C Sneha Kishore, S Sohal, TM Srivastava, DW Steyn, TP Sudhindra, J Theron, CL White, AS Yadav