Abhishek Manu Singhvi gets relief from Delhi HC in his alleged 'Sex-CD' case
New Delhi, Tue, 17 Apr 2012
NI Wire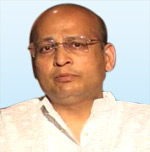 The Delhi High Court today restrained all media houses and others to publish, upload, distribute and any other kind of delivering the contents relating to Congress spokesperson and senior advocate of Supreme Court Abhishek Manu Singhvi's CDs in which he was shown in compromising positions.
Restraining to media houses including Aaj Tak, Headlines Today and The India Today Group from publishing the CD which was prepared by Mukesh Kumar Lal, who worked for Singhvi as a driver, Justice Reva Khetrapal, today issued notices to Lal and the media houses and issued summons to them.
Singhvi and another lawyer Abhimanyu Bhandari had moved the court last week seeking to prohibit the media and others for publishing that alleged fabricated CD.
Justice Khetrapal in this regard had passed an order on April 13 to restrain the any sort of publishing, broadcasting, distributing, uploading and using means of communication for defaming the petitioner until court's next order would come out.
She summoned Lal and media housed to appear before the court on May 05.
"Irreparable injury is likely to be caused to the reputation and goodwill of plaintiff 2 (Abhishek Manu Singhvi) in case the defendants are not restrained from disseminating the information allegedly in their possession in the form of CD," the court said in its order.
"Till the next date, the defendants, their agents and all other acting for and/or on their behalf are restrained from publishing, broadcasting, disseminating or distributing in any form or manner the contents of any alleged CD or any other material as described in the plaint in relation to Abhishek Manu Singhvi," the court said.
Abhishek Manu Singhvi in his petition reportedly said that Mukesh Kumar Lal had been working as a driver for several years who suddenly left his job on 17 March without giving prior notice and later send him SMS on March 24, 2012 and threatened to blackmail him if he did not give him a handsome amount of money.
He threatened him to distribute CD to media houses for publishing the CD, which according to Singhvi was forged, fabricated and totally baseless.
--With IANS Inputs--