Pulitzer prize winners announced
Washington, Tue, 17 Apr 2012
NI Wire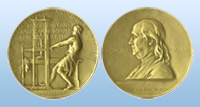 The reputed Pulitzer award for the coveted public service given to the Philadelphia Inquired for its exploration of pervasive violence in the city's school. The 96th annual Pulitzer Prizes were announced in New York's Columbia University.
The Philadelphia Inquirer was awarded for the prestigious award for its wonderful reporting and its exploration of pervasive and videos to illuminate crimes committed by children against children and to stir reforms to improve safety for teachers and students.
For the investigative reporting category, award given to Associated Press and the Seattle Times.
On the other hand the Tuscaloosa News Staff in Alabama, US won breaking news reporting Pulitzer for its magnificent coverage of a deadly tornado.
For the explanatory and international reporting, New York Times won the Pulitzer award whereas Patriot-News Staff in Pennsylvania took the prize for local reporting.
In the category of feature writing, awards given to Seattle weekly The stranger.
The online media Politico won the editorial cartooning award but no one got the award for editorial writing.
New York Times won the explanatory reporting and international reporting prizes and the Patriot-News Staff in Pennsylvania took the prize for local reporting.
Massoud Hossaini of Agence France-Presse (AFP) took breaking news photography prize for his heartbreaking image of a girl crying in fear after a suicide bomber's attack at a crowded shrine in Kabul and the feature photography Pulitzer went to the Denver Post.
It is noted that Hungarian-American publisher Joseph Pulitzer established Pulitzer award and it is administered by Columbia University in New York City.
Each winner receives a certificate and a $10,000 cash award.
(With inputs from IANS)