Sachin still doubtful in today's match between MI and Delhi Daredevils
New Delhi, Mon, 16 Apr 2012
NI Wire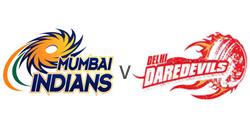 Sachin Tendulkar who got injured on the very first match of IPL is still doubtful to play in today's match between Mumbai Indians and Delhi Daredevils. He sustained an index finger injury in a match against Chennai Super Kings on April 4 while trying to defend a ball of Doug Bollinger.
In a media conference held yesterday Mumbai Indians opener Richard Levi said "He had a training session yesterday and hit the balls for 45 minutes to an hour. His finger seems to look pretty fine, but the guys will take a call on him tomorrow before the game".
Both the teams have won their previous matches, while Delhi has the likes of Pietersen, Jayawardene and Morkel, Malinga, Pollard, Rohit and Levi are the inform players from Mumbai Indians.
The match will be played in the Wankhede Stadium of Mumbai and will be shown live on Set Max from 8 pm
Mumbai Indians Team:
Harbhajan Singh, AN Ahmed, Amitoze Singh, AC Blizzard, YS Chahal, JEC Franklin, HH Gibbs, DJ Jacobs, MG Johnson, KD Karthik, Kuldeep Yadav, DS Kulkarni, RE Levi, CJ McKay, SL Malinga, SH Marathe, SS Nayak, PP Ojha, MM Patel, NLTC Perera, RJ Peterson, KA Pollard, AT Rayudu, JN Shah, RG Sharma, R Shukla, RP Singh, TL Suman, P Suyal, AP Tare, SR Tendulkar, AV Wankhade, SA Yadav
Delhi Daredevils Team:
V Sehwag, MC Juneja, VR Aaron, AB Agarkar, P Bisht, R Bist, GH Bodi, DAJ Bracewell, U Chand, AJ Finch, DPMD Jayawardene, GJ Maxwell, M Morkel, S Nadeem, Y Nagar, PT Naik, P Negi, NV Ojha, IK Pathan, KP Pietersen, KC Raval, AD Russell, AM Salvi, LRPL Taylor, RE van der Merwe, Y Venugopal Rao, Vikas Mishra, DA Warner, TP Yadav, UT Yadav, Zafir Patel