Elle Macpherson is not much concerned about looks
New Delhi, Mon, 16 Apr 2012
NI Wire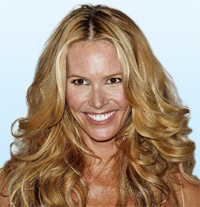 Elle Macpherson has recently realized that at the age of 48, looks are not the most important thing in her life now.
The Australian model also named as 'The Body' has appeared on the cover of the Sports Illustrated Swimsuit Issue a record five times from the eighties up to 2006.

"I am almost 50, so obviously I don't have the same body I had when I was 20. But I also don't have the same mindset either, when I was racked with self-consciousness and insecurity," the Daily Express quoted the model as saying.
The model has thanked a fitness-filled lifestyle for her youthful physique, Macpherson further said that she is inspired to exercise by being "joyful, inspired, passionate, patient, kind, strong and healthy".
"I do an hour every day of some kind of physical activity. I mix it up. If I am in the mountains I will ski," the 48 year old has been quoted as saying.
"If I am near water I will swim. I might do yoga or a spin class.
"I always take my running shoes and iPod wherever I go. Running is not only a really effective way to stay fit, it's a sort of moving meditation and a great way to explore new towns when I am travelling," she said.
--with inputs from ANI