Modi accuses Centre for creating an atmosphere of distrust
New Delhi, Mon, 16 Apr 2012
NI Wire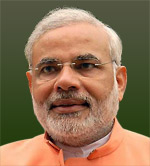 The Centre government is creating an atmosphere of distrust between the Centre and states by providing police power to Central paramilitary forces and investigating agencies, as according to proposed provisions, the central investigating agencies including National Counter Terrorism Centre (NCTC) can directly raid, arrest or take any kind of action without informing to states government.
"Whether it is the National Counter Terrorism Centre (NCTC), Railway Protection Force (RPF) or the Border Security Force (BSF), the centre's unilateral activity is creating an atmosphere of distrust between the centre and the state," said Modi to the reporters on the sidelines of the meet.
He also informed that he has asked the Prime Minister to bridge the gap in the meet.
Many ministers including Modi opposed the proposal of NCTC and have registered their complaint to Prime Minister Manmohan Singh by writing a letter to withdraw this proposal.
However, Prime Minister did not asked Home Minister to withdraw it but assured opponents that their problems would be addressed.
Modi has also written separately to the prime minister against the proposals to provide the central government-controlled Railway Protection Force (RPF) officers powers equivalent to state police officers; also amendments to the Border Security Force law to enable their officers to effect arrests in the hinterland, apart from existing powers to arrest border violators and cross-border smugglers.
Modi said these actions of the centre were creating an atmosphere of distrust with the state governments.
Accusing New Delhi of adopting a unilateral approach on issues concerning internal security, Modi said it must see the states as partners in maintaining national security.
"Internal security is too serious a matter to be treated as an arena for one-upmanship by the union government," Modi said in his address at the conference.
--With Agencies Input--