Street fight between militants and military forces ends; 48 killed 65 injured
Kabul, Mon, 16 Apr 2012
NI Wire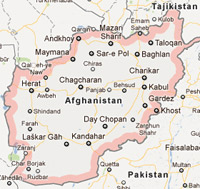 The 18 hours long street fighting between alleged heavy-armed organized Taliban militants, and Afghan and NATO led forces ended on Monday leaving 48 persons dead including 36 terrorists.
As much as 65 injured persons have been reported from the fighting place, news agencies reported.
According to Afghanistan's Interior Minister Bismillah Mohammadi, "Overall, 36 terrorists and 12 others including eight security personnel and four civilians were killed during terrorist and counter-terrorist operations."
He said as many as 37 rebels armed with suicide vests, assault rifles and rocket-propelled grenades began their offensive on Sunday and security forces launched counter offensive during which 36 attackers were killed and one captured.
The fighting began mid-day on Sunday and gripped Kabul's central districts through the night, with explosions and gunfire lighting up alleys and surrounding streets.
Early on Monday, security forces flushed out militants holed up near embassies in the heavily guarded diplomatic area.
NATO helicopters had launched strafing attack runs on gunmen hiding in a construction site overlooking the NATO headquarters and several embassies, including the British and German missions.
"The last of militants were overrun in Darul Aman area (of Kabul) at 7.30 am today (Monday) and all the attackers have been killed," the police statement said.
The Taliban claimed responsibility for the attacks, but some officials said the Haqqani network might have been involved.
--With Agencies Input--