Security threats in India must be tackled firmly but with sensitivity: PM
New Delhi, Mon, 16 Apr 2012
NI Wire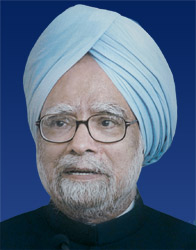 India's internal security threat comprising terrorism, extremism, Naxalism and communal violence is the biggest security challenge of India, which must be handed firmly but with sensitivity, said Prime Minister Manmohan Singh today at New Delhi while addressing in Chief Ministers' conference.
"The threats faced by India today include terrorism, extremism, Naxalism and communal violence. These issues must be tackled firmly, but with sensitivity," said Singh while addressing Chief Ministers of all states who gathered at annual Chief Ministers' conference on internal security at New Delhi on April 16.
PM who is heading the meet said that internal security is a matter where the Centre and the state governments must work hand in hand.
"The forces behind them should not only be contained but also effectively rolled back and is an endeavor that requires an united effort by the centre and states. Internal security is a matter where States and Centre must work hand in hand."
On the importance of improving intelligence to counter terrorism, Singh said, "We need giant and coordinated efforts to deal with the challenge of terrorism, whatever be its origin be it external or internal, whatever its motivation."
"This is a struggle in which we cannot relax", he added.
Singh has also outlined the efforts taken by the centre to improve intelligence and confirmed that the National Counter Terrorism Centre (NCTC) would be discussed on May 5.
He further reiterated the centre's efforts towards improving capacity building in the police forces so that they can better combat the threats facing India's internal security.
He said it is important for the government to find ways and means to improve the quality of personnel and called upon Chief Ministers to come up with viable suggestions to do this.
--With ANI Inputs--