Maoists likely to extend deadline of abducted MLA
Bhubaneshwar, Sun, 15 Apr 2012
NI Wire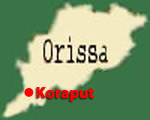 Maoists who have abducted Biju Janta Dal legislator Jhina Hikaka from Korapur district from Andhra Odisha border zone is now likely to extend the set deadline from April 15 to April 18, due to viewing the deadlock situation at this moments.
Maoists have already freed two Italian tourists, who had been first kidnapped on March 15 from the Naxalalite area while they were trekking.
Meanwhile, the abductors have released a fresh audio tape in which they have dropped a name of Chenda Bhusanam alias Ghasi from their demand list for whom they were asking to set free.
But on the other hand, they are firm to completely scrap cases from the rebels who were in the list while government was looking only for their bail.
According to a Maoist leader, the abductors have stated that they would handed over the abducted MLA to his wife Kaushalya Majhi at Balipeta village of Koraput district in the exchange of 29 prisoners by April 18 evening.
The new deadline from the rebels came days after the government said it cannot release Ghasi as he faces grievous charges.
Ghasi was facing the charges of killing more than 55 security personnel.
A Maoist leader who calls herself Aruna said the hostage will be handed over to a local legislator, Nihar Patnaik, and Hikaka's wife Kaushalya Majhi at Balipeta village of Koraput district if the 29 prisoners are freed by April 18 evening.
According to government sources, prisoners whose release the rebels have sought in exchange for the legislator are mostly members of Chasi Mulia Adivasi Sangh (CMAS), an organization working in the southern parts of the state, including in Malkangiri and Koraput districts, on tribal-related issues. Police accused them that they have Maoists support while naxals believe that they had been booked on false charges.
Government has become ready to release 23 prisoners - 15 Chasi Mulia Adivasi Sangha (CMAS) members and eight Maoists so far.
Chief Minister Naveen Patnaik on Saturday visited Koraput and held a meeting with local leaders, where the back channel negotiation option figured, a senior official said, adding that due to the Maoist group's refusal to hold talks through mediators, it had become tough to resolve the crisis.
Some people's representatives from Koraput were asked to explore contacts with the CMAS, a front organisation of Maoists, for striking a deal with Andhra Odisha Border Special Zonal Committee (AOBSZC), which had allegedly abducted Jhina, the official said.
--With Agencies Inputs--