MCD: 12 to 15 percent voting in early hours
New Delhi, Sun, 15 Apr 2012
NI Wire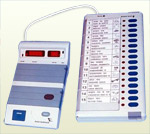 Voting is slow in initial hours for the trifurcated MCD polls in Delhi. Around 12 to 15 percent vote has been witnessed in the starting 3 hours of polling. People were remained on que for their turn to cast their vote on various polling booths in Capital.
First time for the trifurcated Municipal Corporation of Delhi (MCD) election began on Sunday. Proper arrangement has been done for free and fair polling in the capital. The main fight between ruling BJP and Congress but SP and other party's presence has made the fight interesting.
For free and fair poll proper arrangement has been done. More thatn 30,000 armed police personnel have been deployed at the booths.
Over one crore voters are expected to exercise their franchise to decide the fate of 2,423 candidates for 272 seats.
While the corporations of north and south have 104 wards each, the east Delhi Corporation has 64.
The BJP, which rules the corporation had swept the 2007 elections in the then unified MCD with 168 seats.
While Sunday's election will see a straight contest between the Congress and the BJP, parties like the Samajwadi Party have also fielded candidates.
The polling will end at 5.30 p.m.
For the first time, 50 percent seats (136) have been reserved for women candidates.
(With inputs form IANS)