IPL: Kings XI suffer big blow against KKR
Kolkata, Sun, 15 Apr 2012
NI Wire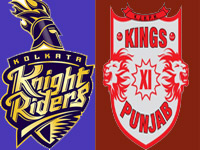 Kings XI Punjab struggling for 73 for the lost of 3 wickets in the important match of IPL against KKR. The entire three important batsmen including David Hussy has gone.
Earlier Kolkatta Knight Riders (KKR) captain Gautam Gambhir won the toss and elected to bowl against the King XI Punjab (KXIP). The 17th match of IPL is very important for both the team as KKR has to continue its victory pace after consecutive win and KXIP too has to maintain his scorecard.
It is important for both the teams as they have taste the win after loosing two initial matches to their opponents. There will be some benefit for KKR for its local ground and viewers.
Gautam Gambhir has won the toss and elected to bowl, as his bowling squad is so strong. Also his batsman Jaques Kallis and Yusuf Pathan will have to do a lot. However his bowlers will try to pack the Kings in economy.
Although it will not be easy as Adam Girkrisht, Shaun Marsh and Hussy are enough to change the game in their side.