Govt. restricted Hajj subsidy once in a lifetime in its new Hajj policy 2012
New Delhi, Sun, 15 Apr 2012
NI Wire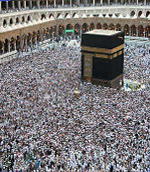 The Centre on Saturday informed to Supreme Court that it was going to restrict 'Hajj Subsidy' to once in a lifetime in its new Hajj Policy 2012 as against once in five years.
The government grants subsidy on Air India's fare to Hajj pilgrims who go to the holy city of Makkah and Madina in Saudi Arabia for performing Islam's one of the five essential duties.
Last year government granted a subsidy of Rs.38,800 on Airfare.
According to latest Hajj Policy, government has decided to grant subsidy to those who have never gone for Hajj.
According to signed agreement between India and Saudi Arabia government, later has allowed a quota of 1.70 lakh pilgrims to perform Hajj to the first.
The Hajj Committee will select only 1.25 lakh Hajj pilgrims who will get subsidy and rest 45,000 pilgrims will go from private planes.
The government has also decided to cut the VIP quota from last year's 27 to 10 in Hajj Policy 2012. Moreover, government has also decided to reserve 11,000 seats for different categories of quota including Bohra community and Kashmiri Muslims, persons above age 70 and other different persons recommended by dignitaries and eminent persons.
In yet another important decision, the Hajj Policy 2012 has stated that the government would not open up registration for new Private Tour Operators (PTOs), saying, the Hajj service could not be equated to any other commercial venture.
The selection of Hajj pilgrims would be on the basis of lottery system.
--With Agencies Inputs--