India Open 2012 begins on 24th April
New Delhi, Sat, 14 Apr 2012
NI Wire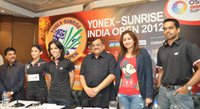 Among the Indian ace Saina Nehwal and Jwala Gunta, the other world famous badminton players will be the main attractions in the forthcoming Yonex-Sunrise India Open 2012 which is going to held in Siri Fort Indoor Stadium from 24th April to 29 April.
Dr. Akhilesh Das Gupta informed that it is the second year of the prestigious tournaments in which leading players of the world will be presents. 290 players from the 33 countries will participate in the tournament, he added.
He said that after Cricket, craze for Badminton is rising in our country. He hoped that Indian players can win at least 4 gold medals.
The Yonex Sunrise India Open World Super Series started in 2008. In 2011 the championship was upgraded and achieved the Super Seeries status making it among the 12 World Super Series events.
Significantly this year's India Super Series is the last tournament in the Badminton circuit to get points in order to qualify for the Olympic games being held in London in July 2012.
The six day long competitions which is divided into the Men's Singles and Doubles, Women's Singles and Doubles and Mixed Doubles games will see leading names in the world of badminton participating.
Saina Nehwal will be the main contestant from India side. Fifth seeded Saina retained the Swiss open Grand Prix Gold trophy at Basel.
Jwala Guttu and Ashwani Pannapa will be another attractions from India side. P Gopichand is the Indian coach.
Yonex-Sunrise is the main sponsor of the tournament