MCD election:stage is all set for the free and fair poll
New Delhi, Sat, 14 Apr 2012
NI Wire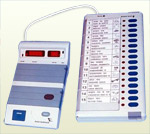 The stage is all set for the polling of trifurcated Municipal Corporation of Delhi (MCD) councillors. A total 272 councillors have to be chosen out of 2,423 candidates in the field. All arrangements for free and fair poll have been made and proper deployment of the forces and Delhi Police constables have been done so that peacefully election held.
According to state election commission sources total of 1,15,20,508 voters will cast their votes for their choice. Out of the voters there are 64,42,168 are males 50,75,001 are females whereas 35 are others.
For free and fare polling proper police arrangements have been done. A total of 30,000-armed police personal will be deployed during the polls at 11,543 booths in the city.
While once again the main contest will be between two arc rivals Congress and BJP, but Samajwadi Party, Bahujan Samajwadi party are also in the contest. Results of the MCD poll are of significant importance for both Congress and BJP, as they have to face Delhi assembly polls in 2013.
While candidates from the BJP and the Congress will contest from 271 wards, the Samajwadi Party and the Bahujan Samajwadi Party have fielded their candidates respectively in 99 and 215 wards.
This will be first time that 50 percent seats (136) will be reserved for women candidates.
Also it is the first time that any eunuchs has filed her nomination to contest in the poll.
BJP has claimed that it will come back in all the three MCD and people will vote for its development work done in MCD.
On the other side main opposition Congress has to face the main issues of corruption in Delhi govt and other factors.
Voting will be starts at 8 a.m. and end at 5.30 p.m.
The votes will be counted Tuesday.
(With inputs from IANS)